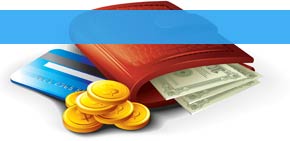 For many businesses selling online is becoming a necessity – be it as the sole means of trading, or to broaden the reach of a mail order business or 'brick and mortar' shop.
To really profit from selling online though you need to give your customers a choice in how the pay for the goods or services you provide. Whilst you can offer the option of payment by cheque (or the cheque alternatives that will appear when cheques are phased out), or invoice customers for online sales and process payments offline this is not an ideal way of trading online. Customers often use the internet for a fast service, with most sales being paid for instantly with credit / debit cards or via other online payment accounts. If you are not offering online payments then you may be losing customers.
There are plenty of options on offer that enable your business to to accept credit / debit card payments through your website, but additional arrangements do have to be put in place over and above those already in use with traditional business banking. There two main types of payment processor for online payments:
– Payment Service Providers (those which require a bank merchant account)
– All-in-one / full service (no merchant account required
Setting up a merchant account for online payments
Most high street banks can provide merchant accounts (these are often referred to as acquiring banks). Customers will make payments into your merchant account and the funds will usually be available within a few working days. A transaction charge is applied as a percentage of the sales value (charges vary from bank to bank so it can be worth shopping around – there is no need to go to your bank), debit cards often have a fixed charge.  If you already have an existing merchant account you will usually need to upgrade this to allow for online transactions.
Most merchant accounts act 'behind the scenes' – your customers card details are collected over the internet through a third party Payment Service Provider. There are a couple of exceptions that we are familiar with – HSBC ePayments and Barclays ePDQ.
Banks do have strict requirements for Internet merchant accounts, a thorough credit check will be carried out (which can take up to 8 weeks in some instances) and it is possible that even the bank you use for your current business transactions could initially refuse to grant you one. In these instances one of the All-in-One providers (such as those listed below) are well worth investigating, even as a temporary measure to gain an online trading history which would support an application for a merchant account.
Payment Service Providers (PSPs)
These providers collect the card information from your customers and pass it through to your bank for processing, this allows transactions to be processed in 'real time' without the need for you to collate card information and manually input information (though this facilitiy is provided with some PSPs). A merchant account is required (see above) and a monthly and/or per transaction charge is applied by your chosen provider.
SagePay (used to be Protx) offer a range of payment processing solutions to suit the shopping cart of your choice and the type of web hosting in use by your business. There are no setup fees, and the monthly fee of £20 includes 1,000 transactions per quarter (if more transactions are being made then the fee structure is 10p per transaction instead of the fixed rate).
As standard they provide an online terminal for processing of card payments should a customer not feel comfortable inputting their details themselves – this means you can also take orders & payment over the phone!
In general we have found SagePay to be an excellent solution for small businesses with merchant facilities. All payments are processed on the SagePay servers so your PCI compliance requirements are minimal as your customers security is taken care of by SagePay.
SecPay have standard setup fee of £50, they then apply a sliding scale for charges depending upon your monthly level of transactions or your order values, from £10 monthly charge with a 39p per transaction fee, to £225 monthly charge with a 8p transaction charge. As an alternative to the fixed transaction fee they also offer a percentage transaction charge – with a minimum cost of 10p per transaction applied. This is perfect for those who have many lower cost transactions each month.
An online terminal is provided at no additional cost for processing payments, as well as carrying out administrative tasks such as refunds. A variety of different ways to integrate SecPay are available dependant upon your requirements.
SecureTrading charging structure varies dependant upon your turnover. Average costings works out around £200 per year fixed cost, plus a 1.5% transaction cost.
They have an online administrative area that allows you to manage your transactions, process refunds and also acts as a virtual terminal for processing card payments if required.
HSBC ePayments is slightly different to the other PSPs in that they are both an aquiring bank and the payment service provider in one which means you only get one set of fees. Other PSPs have both their fees and those of the bank to take into account.
It is a requirement for HSBC ePayments that your hosting has an SSL (secure server) certificate.
The setup fee is around £200 for HSBC and there is also a monthly charge and transaction fee dependant upon your level and value of transactions.
All in One Providers
In order to sell online traditionally you would have to establish a merchant account with your bank as well as a Payment Service Provider (to connect with your bank), with a payment service provider. Both these services normally require a set-up fee and an ongoing monthly charge.
The All-in-One providers listed below are 'total online payment services' without the need for both the above – so only one set of charges are applied (or in some cases none).
Typical costs are a setup fee of £100, plus an annual fee of around £160. A per transaction cost of 4.5% (of sales value) is applied – though this can vary depending upon your level of transactions and turnover. There are additional fees for multiple currencies and if there is a chargeback applied to your account there is a £10 service charge.  If you are an FSB (Federation of Small Business) member then you can get a reduction on the Worldpay chages – in some cases the discount received has covered the FSB membership fees.
Extra fees apply are charged for protection from online fraud, and if you wished to collect recurring payments e.g. subscriptions or a monthly coaching fee, the facility incurrs a setup fee of £100. Virtual terminals are available at a set up fee of £100 no annual fees are applied though.
The setup time before being able to use the facility is usually around 7-10 days but we recommend you apply as soon as possible in order to ensure your website launch is not held up.
As you can see the charges are higher with worldpay, but you do not have the additional cost of a merchant account – this is also useful for companies who for whatever reason are unable to get a merchant account for their business.
The main downside we have found for small businesses is that the money can take a while to reach your bank account which may not be suitable for everyone.  Its worth noting that WorldPay will enter into negotiations over fees and processing times, some of our clients have been successful in getting the per transaction charges and processing times lowered at the end of their first year of trading so do enquire if you are not happy with the standard offering.
WorldPay can also act as a Payment Service Provider – see above for more information on PSPs.
PayPal started out as a means of transferring money between members, so you had to deposit money into your account before using that to pay others. However it has evolved over the years (it is now owned by eBay) and is now an effective, low cost provider – so long as you are aware of the drawbacks.  There are 2 different offerings from Paypal, both of which allow your customers to pay by credit/debit card (and PayPal express allows them to also use PayPal funds), but PayPal Pro is a more customisable option:
With Paypal Website Payments Pro the whole transaction occurs on your website – this gives you greater flexibility, and a more professional look as it is all branded with your business. It comes with a £20 monthly fee, plus transaction charges. As the transactions occur on your website you will need a higher level of PCI compliance and you MUST have an SSL certificate.  We're finding that PayPal Pro accounts are becoming hard to get at the moment.
The other option is Paypal Express Checkout which is the original PayPal checkout system.  There are no set up fees and no monthly charges. The per transaction charges are; 1.4% – 3.4% (dependant upon monthly sales volume) plus 20p. If you require multiple currencies then a 2.5% charge is applied for currency conversion on foreign currency transactions.  You have limited ability to customise the checkout pages – which are all hosted on the PayPal pages – but your customer will definately know they are using PayPal (not necessarily a bad thing as they are becoming more mainstream).
PayPal is only available for online transactions – there is no 'virtual terminal' for use with telephone or retail transactions. One of the main downsides that clients using PayPal have experienced is the level of protection as a seller, with PayPal generally coming down in favour of the buyer in a transaction dispute.
Case Study:
One of our clients had several customers place a chargeback for their money from PayPal when there were experiencing postal delays outside of their control. PayPal contacted the company requesting proof that the goods were on its way – which was provided in the form of delivery tracking numbers, plus a full explanation of the situation.  Despite this PayPal continued to refund the customers and take the money back from the company, the next day the parcels were delivered and the money not returned nor obtainable from the customers.
PayPal is becoming more mainstream as more people recognise the name (from dealing with eBay or other online businesses whom support it), so offering PayPal as an option (even if it is not the only payment method) could open up your customer base.
Similar to PayPal in that it started out as a member – member scheme, Nochex also now offers various levels of service – the two of most interest to business users are the 'Seller Account' and 'Merchant Account'.
The Nochex Merchant Account is aimed at businesses likely to turn over £1000 (or more) per month, or for those who require to be able to accept international payments, or transactions totalling more than £100 for whom the seller account is not suitable. There is a one-off setup charge of £50, and the transaction charges are the same as the seller account above (2.9% + 20p), with a sliding scale for businesses with higher turnover.
It is worth noting that in addition to the above charges Nochex retain a balance on the account to offset in case of chargebacks – the amount of this is negotiable and depends upon average transaction values (standard balance held is 1.5-2 times your average value transaction, or 15% of average monthly earnings).
Our ecommerce solution is fully integrated with the major UK payment providers, we currently have clients successfully using:
Worldpay
SagePay
HSBC
Paypal Pro
Paypal Express
Offline methods (cheque, bank transfer & cash on delivery)
If you are looking to use a payment provider not mentioned above don't be put off – we are able to integrate most payment providers into our solution. Just contact us to let us know what you intend to use.