When you look at your Google Analytics you want to see meaningful data about what is happening on your website, however as Google Analytics by default tracks all visits to your website the data it tracks can be skewed by your visits and those of your website developer (if you use one).
Fortunately it is quite easy to exclude those visits, here I'll guide you through some ways to achieve this.
From within Google Analytics
If you access your Analytics from the same place then you may be able to excluse your own traffic from within Google Analytics.  Ideally you want your internet connection to have a fixed IP address (not all internet providers provide you with this), but you can also exclude a range of IP addresses – just bear in mind that there is a chance you may exclude some other visitors traffic.
First you need to find out what your IP address is. Click here to use the free online tool 'whats my IP'.
From within your Google Analytics account select 'Account settings':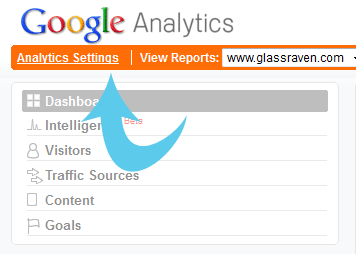 Then scroll down the page until you see the section for Filters. Select 'add filter' as shown:

Select 'Add new filter', in the Filter Name box enter the location of the internet connection (eg Office IP Address). If you have a fixed IP address follow these instructions:
Fixed IP Address
For this you can use a pre-defined filter. In the Filter Type select Exclude … traffic from an IP address … that are equal to … Then enter your IP address (which you found from the website above) into the IP address box and click save changes.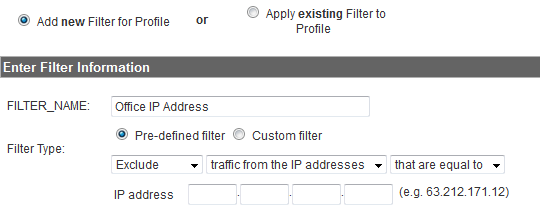 Range of IP Addresses
If you have a range of IP addresses to block insteadyou need to use a custom filter. Select Exclude and filter based on the field Visitor IP Address.  The filter pattern is the IP address range, however you will need to use specific formatting to enter it (called 'regular expression'). Luckily Google have created this free tool which will sort out the formatting for you so you can just copy it across.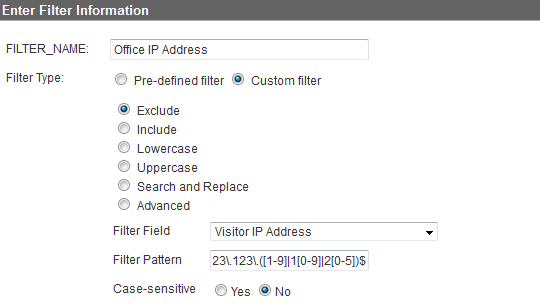 Click 'Save Changes' and you are sorted.  If you have mulitple locations which you access your website from regularly it is worth setting up a filter for each location.
Browser addon
The free addon Google Analytics Opt-out Browser Add-on is available for most commonly used web browsers. It lets Google Analytics know not to track information about your visits – on ANY website, so if you have many websites this can be a quick and easy way to stop your visits being tracked on them all.
NB: The addon is still in Beta mode so may not be 100% stable.
WordPress Users
The 2 plugins I've used for WordPress are 'Google Analytics for WordPress' and 'Google Analyticator'. Both of which make it incredibly easy to add your Analytics account into WordPress without any technical knowledge, and they both exclude your visits to your own blog – as long as you are logged in at the time.
So hopefully you now have a good idea about how to tidy up your Analytics data by not bloating it with your own website visits. If you have any questions on Analytics please do post them below, give me a call or send me a message on twitter (@glassraven) as I am going to be posting up a series of articles over the next few weeks on various Google Analytics topics and I'd be happy to include the answer to your questions.